Kurt Gödel Research Center for Mathematical Logic (KGRC), Vienna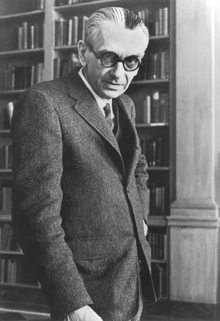 The KGRC, a research platform of the University of Vienna, is named after Kurt Gödel, who proved the completeness and the incompleteness theorems in Vienna in the years 1929–1931, arguably the most groundbreaking work in mathematical logic of modern times.
News
September/October 2013: The KGRC is involved in the ESI Set Theory Programme.
July 2013: Sy David Friedman's 60th-Birthday Conference takes place in Vienna.
May 2013: Congratulations to Ekaterina Fokina and Lyubomyr Zdomskyy for acquiring habilitation!
May 2013: Philipp Schlicht visits the KGRC and gives a talk.
April 2013: Hubie Chen visits the KGRC and gives a talk.
February 2013: John Baldwin, Tapani Hyttinen, and Chris Laskowski visit the KGRC.
Related websites and services