Kurt Gödel Research Center for Mathematical Logic (KGRC), Vienna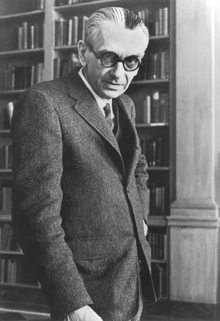 The KGRC, a research platform of the University of Vienna, is named after Kurt Gödel, who proved the completeness and the incompleteness theorems in Vienna in the years 1929–1931, arguably the most groundbreaking work in mathematical logic of modern times.
News
December 2017: Daniel Soukup receives the Grünwald Géza Prize from the Bolyai Society at the Rényi Institute. The prize is awarded since 1951 to Hungarian mathematicians under 30 for outstanding achievements in pure mathematics research.
September 2017: Ben Miller is promoted to full professor.
June 2017: Vera Fischer is awarded a START prize. The START prize is one of the most recognized prizes for young scientists in Austria and includes prize money up to 1.2 million Euro. (All prize winners of 2017 and their projects, introduction in German; photos of the prize giving ceremony.)
June 2017: Diana Montoya successfully defends her PhD thesis. Congratulations Diana!
June 2017: The Austrian Academy of Sciences awards the 128 most promising PhD thesis proposals from all of Austria with a DOC stipend. Marlene Koelbing receives one of them. (Press release in German, photos © ÖAW/Elia Zilberberg, Marlene in 0086_0086.jpg and 0087_0087.jpg.)
May 2017: Sy-David Friedman is interviewed (in German) for the Audimax podcast.
April 2017: The KGRC was recently ranked as the second-best institute for logic in the world (after Paris 7); see http://derstandard.at/2000055309772/Erstmals-erhoben-Zahl-der-Top-10-Platzierungen-nach-Disziplinen
January 2018: Philipp Schlicht visits the KGRC and gives a talk.
January 2018: David Schrittesser gives a talk.
January 2018: The KGRC welcomes Šárka Stejskalová as a new member.
January 2018: Congratulations to Sandra Müller (nee Uhlenbrock) on the occasion of her marriage!
December 2017: Viktoria Frider-Brydun visits the KGRC.
December 2017: Hubie Chen visits the KGRC and gives a talk.
November/December 2017: Daniel Waxman visits the KGRC and gives a talk in the Friday seminar.
November 2017: Russell Miller visits the KGRC and gives a talk.
November 2017: Paul Ellis visits the KGRC and gives a talk.
November 2017: Šárka Stejskalová and Radek Honzík visit the KGRC.
Related websites and services