2010: Model Theory Week
A model theory week took place at the KGRC 14-18 June 2010.
Venue
The Kurt Gödel Research Center is located in the top (second) floor of the north wing of the prestigious Josefinum building in Währingerstraße 25, Vienna.

The unidirectional Sensengasse tram stop is only a few metres from the KGRC. All southbound trams towards Schottentor stop here. Trams from Schottentor in the inner city centre (lines 37-42) do not stop at Sensengasse. Get off at the following stop (Spitalgasse/Währingerstraße) and wait up to 3 minutes for a tram in the opposite direction. Or simply walk the short distance.

Enter the Josefinum court/garden through the right gate. Turn right and enter the right wing, which houses a medical history museum on the first floor. Take the stairs past the museum to the second/top floor. (The KGRC is also accessible with a lift through the Josefinum's central main entrance, but you might encounter a locked door somewhere on that route.)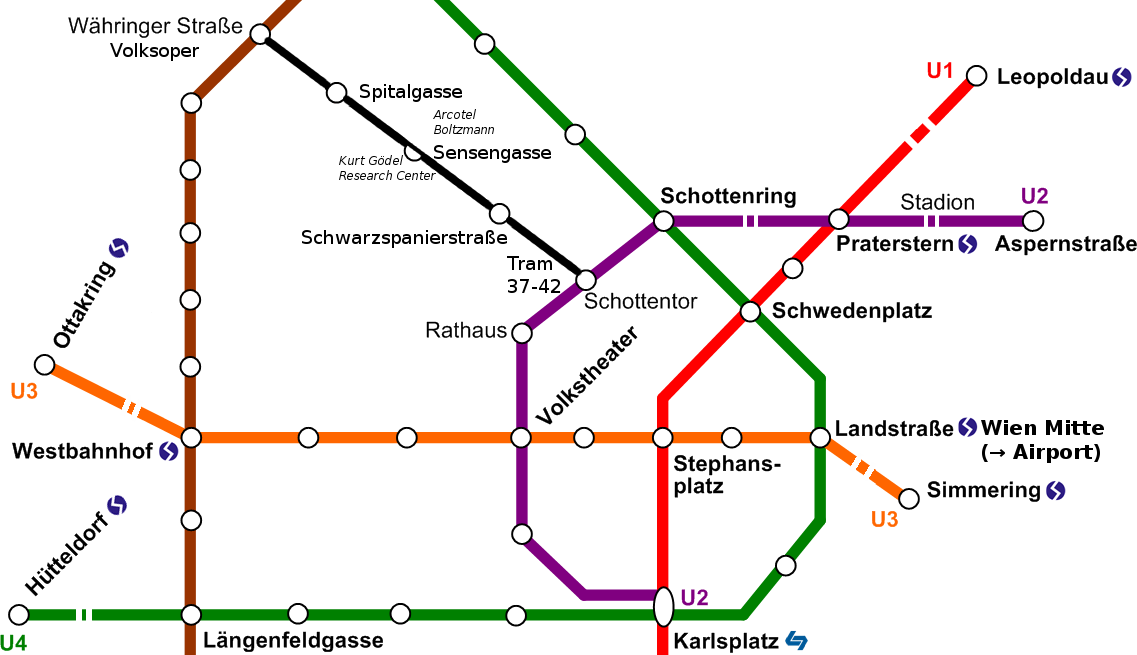 Participants
Hans Adler (KGRC)
Alessandro Berarducci (Pisa)
Enrique Casanovas (Barcelona)
Prerna Juhlin (Notre Dame/KGRC)
Martin Koerwien (Barcelona)
Anand Pillay (Leeds)
Seminar Room
The KGRC Seminar Room has excellent blackboards and is available to us at most times. However, it is occupied at the following times: Monday/Tuesday 14:00-15:00. Wednesday 9:00-12:00 and 14:00-17:00. Thursday 14:00-15:00.
While the seminar room is occupied we can use the common room, which has a small whiteboard.
Thursday 15:30 the KGRC staff meets for tea, followed by Anand Pillay's talk and dinner at Schweizerhaus.
Public Transport in Vienna
Vienna has outstanding, integrated public transport that offers season tickets for the core zone 100 (Vienna city) at very good prices. Most visitors will not leave the core zone during their stay, as it includes all of the city itself and even a small part of the surrounding mountains. The price of a single ticket is 1.80 Euros. For many visitors one of the following offerings will be most convenient:
| Name | Price | Price/day | Remarks |
| --- | --- | --- | --- |
| 24 hour ticket | 5.70 Euros | 5.70 Euros | |
| 72 hour ticket | 13.60 Euros | 4.53 Euros | |
| Weekly ticket | 14 Euros | 2 Euros | Valid one week Monday 0:00(?) to Monday 9:00 |
| Monthly ticket | 49.50 Euros | 1.65 Euros | Valid one calendar month, starting on the first |
| 8-day Climate Ticket | 28.80 Euros | 3.60 Euros | 8 individual days of validity; usable by more than one person concurrently (punch twice on the same day) |
Standard tickets are not valid to and from the airport or in special services for tourists such as the Vienna Ring Tram. Note that most normal services stop completely shortly after midnight, at which point they are replaced by a system of night buses. Normal tickets, including season tickets, are valid on the night buses.
Vienna by plane
Vienna's airport, Wien-Schwechat, is about 30-60 minutes from the city centre. Note that some cheap airlines fly via Bratislava (Slovakia) rather than Wien-Schwechat and transfer you from/to Wien-Mitte/Landstraße by bus.
Standard S-Bahn train to/from Wien-Schwechat Airport
For 3.60 Euros (single lticket for zones 100 and 290) you can take the S7 S-Bahn train to Vienna. It runs every 30 minutes. After 25 minutes it stops at Wien-Mitte/Landstraße (the CAT terminal, see below). After 4 more minutes it reaches Wien-Nord/Praterstern, from where you can take the U2 metro line to Schottentor.
CAT (City Airport Train)
For 9 Euros you can take the CAT to Wien-Mitte/Landstraße. Like the S-Bahn, the CAT runs every 30 minutes. It is slightly faster (16 minutes). The CAT doesn't make much sense in this direction unless you want to take a taxi from Wien-Mitte/Landstraße. If you continue by public transport you will have to buy a new ticket, as the CAT ticket is only valid in the CAT, and you will have to change once more than from Wien-Nord/Praterstern.
The CAT is more attractive in the other direction, since many (not all!) airlines have check-in desks in Wien-Mitte/Landstraße for CAT customers, where you can even drop your luggage. (The airline staff at the check-in desk is supposed to verify that you have a CAT ticket.) If you are very lucky you may be able to check in and drop your luggage here 24 hours before your flight (reportedly this is possible for Star Alliance and Air Berlin/Niki customers only.) You can check here whether your airline offers check-in services at Wien-Mitte/Landstraße. Keep in mind that if your flight is not operated by the airline from which you bought the ticket it is somewhat unpredictable which airline is in charge of the check-in.
The CAT offers return tickets for 16 Euros. There are also single tickets available for 28 Euros that include a taxi transfer from Wien-Mitte/Landstraße to your destination (or the other way round). For details see the CAT website.
Taxi to/from Wien-Schwechat Airport
Taxis licensed for Wien-Schwechat Airport are more expensive than those licensed for Vienna itself. If you plan to take a taxi from the airport to Vienna you can save money by booking with C&K Airportservice before your departure. The fixed standard price is 32 Euros for up to 4 passengers. In the other direction you can order a normal airport taxi for about the same fixed price.
Vienna by train
Most, but not all, long-distance trains currently terminate at Wien Westbahnhof. From Westbahnhof it is most convenient to take tram line 5 to Spitalgasse/Währingerstraße. The trams run frequently (intervals less than 10-minutes at core times) and the ride takes 18 minutes. Westbahnhof is a tram terminus, and you can normally board your tram right away. From Spitalgasse you can walk or hop on one of the very frequent trams to Schottenring for one stop (Sensengasse).
Vienna Card
If you plan to do a lot of sightseeing you might be interested in the Vienna Card, which is available in hotels as well as from ticket machines. For 18.50 Euros you get a 72-hour ticket for public transport (13.60 Euros when bought separately) as well as a number of rebates in museums etc. Also 1.50 Euros off for a CAT single ticket.
Additional information
There is a lot of additional information, including photos of the KGRC and the tram stops in the neighbourhood, at the website of last year's set theory conference.